St. Louis Digital Marketing Agency
Experience & Innovation in Internet Marketing
Welcome to Insite Advice. We are a digital marketing and website design firm founded by Alex Wolk in 2002. We focus on delivering measurable results for B2B, B2C, and E-Commerce clients. What do we mean by results?

Anything from a new website, SEO strategy or PPC, social media campaigns, everything in between, and the whole package.
In this day and age if you can't get away without having an online presence and anymore it's getting more difficult to compete if you don't rank on the search engines. That's why it is important to have a digital strategy to solidify your online marketing efforts and increase your brand awareness.
Digital marketing services themselves are broad, including but not limited to, content marketing, advertising, social media, search engine optimization, and Google Ads campaign management. All these digital marketing efforts work together towards one marketing goal – improving a company's conversion rate.
What is Digital Marketing
Digital marketing is any form of marketing that uses digital media to promote products or services to potential customers. Digital marketing channels span a wide range of platforms, such as social media, websites, blogs, email marketing, and search engines.
At its core, digital marketing involves using various digital platforms to connect with potential customers and turn them into paying customers.
These digital marketing strategies include a mix of outbound and inbound marketing strategies including search engine optimization (SEO), digital advertising like pay-per-click (PPC), content marketing, email marketing, and more.
The Benefits of Digital Marketing
Digital marketing offers a wide range of benefits over traditional marketing, including:
A larger audience reach
Greater targeting and control over your message
The ability to measure results and adjust your strategy accordingly
A lower cost per customer acquisition
A more direct and engaging way to connect with potential customers
Traditional Marketing vs. Digital Marketing
While traditional marketing (such as print, radio, and TV ads) can still be effective, digital marketing offers advantages over traditional methods. Digital marketing allows you to target your message more precisely and track your results more accurately.
It also typically costs less than traditional marketing, making it an ideal choice for a small business with a limited marketing budget.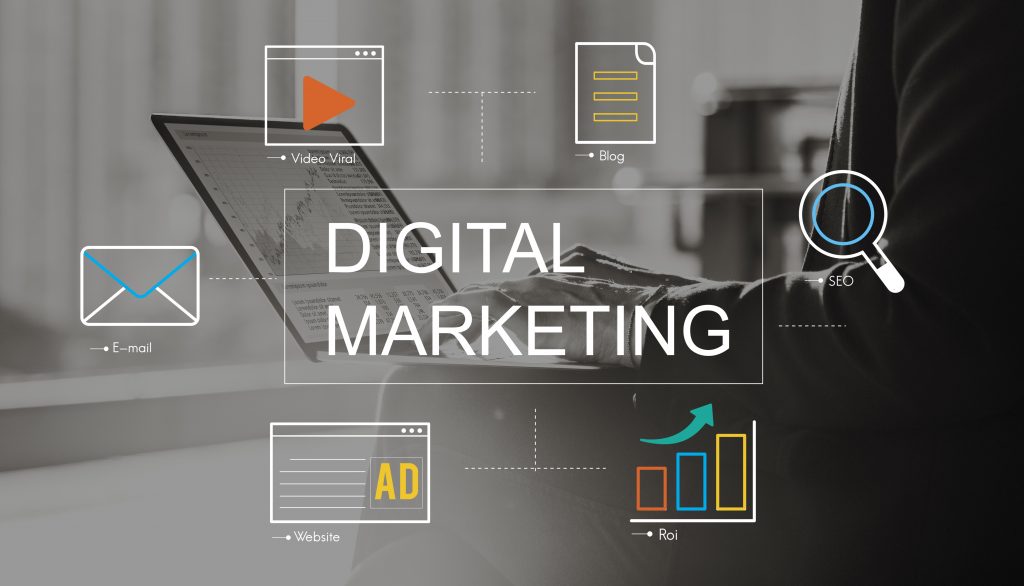 Key Digital Marketing Channels
The key to successful digital marketing is understanding which digital platform(s)is most relevant to your audience and goals. Here are some of the most commonly used digital marketing channels:
Search Engine Marketing (SEM)
Search engine marketing is the practice of using paid advertising on search engines, such as Google or Bing, to promote your business. Google Ads is the most popular SEM platform.
A marketing channel that uses social media platforms, such as Facebook, Twitter, and Instagram, to promote your brand and reach potential customers. Each social media platform has its own pros and cons.
Email marketing is a valuable marketing activity to have regular contact with a prospective customer who has given you permission to contact them via email. Email marketing, especially combined with marketing automation, can be useful for building relationships with potential customers and staying top-of-mind with existing customers.
Content marketing requires high-quality content, such as blog posts, videos, and infographics, that are designed to educate and engage potential customers. Content marketing often goes hand-in-hand with search engine optimization.
With more than 4 billion active internet users in the world, it's hard to find a bigger bang for your buck than with a digital marketing program. As St Louis SEO and digital marketing experts, we have some experience with the generation of quality and targeted traffic and turning prospects into leads. Here are 12 internet marketing tips from the leading St Louis digital marketers.
TOP 20 COMPANIES UNDER 20
Small Business Monthly
BEST IN BUSINESS
St. Louis Internet Marketing
& Web Design
BEST TOURISM WEBSITE
Travel Industry of America
MOST INFLUENTIAL
Alive Magazine